Coldcut is YellowBites little Audio editing tool. It allows precise cutting of small samples and loops. A limited number of effects can be applied including volume envelope and some filters.
The interesting bit about ColdCut is its ability to edit samples on an unlimited number of tracks. These will be mixed down to stereo during playback and also when saving the finished sound, but during editing, it is quite a nice feature to have.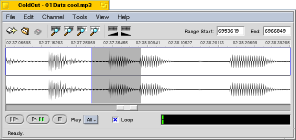 One of the strengths of ColdCut is to make it easy to generate audio loops because of the multi-track editing.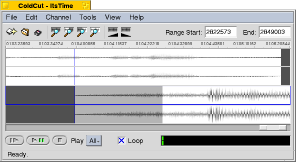 Availability
ColdCut is available as a free download from BeBits.