eXposer is our digital animation system for the BeOS/Zeta platform. The flexible tools in eXposer enable you to use the help of a computer for any traditional animation technique like drawn animation, stop motion puppet animation, cut out animation - anything that can be shot with a camera connected to your computer.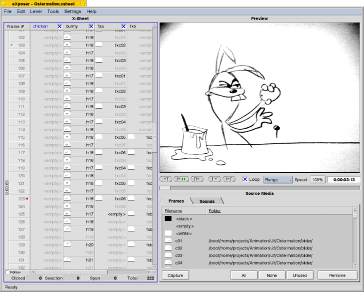 Availability
Free Download (BeBits page)
The software will run in demo mode, which means that saving project files is disabled and exporting to AVI/Quicktime will have a text rendered on top of the video. To unlock eXposer, a license must be purchased.
Purchasing
eXposer licenses are sold in three versions (all prices excluding VAT):
A single user license for use in non-commercial projects for USD 40.-
A single user license for use in commercial projects for USD 250.-
A multi user "workstation" license for use in commercial projects for USD 1000.-
eXposer licences can be purchased online from
Both online stores offer somewhat different payment methods, have a look at each to see what suits you best. After having purchased, an email will be sent to you with a keyfile and instructions on where to install it. It's just a matter of unzipping a file and moving it to a certain directory. There is no problem updating eXposer when a new version becomes available. The keyfile will unlock all downloadable packages unless otherwise notified.
System Requirements
To use eXposer, you need a computer running the Be or Zeta operating system. It will not run on any version of Windows, Linux or MacOS.
Generally, BeOS/Zeta and eXposer should run on most PCs. For a more detailed list on compatible hardware, please refer to the BeDrivers hardware matrix or the Zeta hardware compatibility list. To be able to use eXposer's capture module you need a compatible video-in device. The devices BeOS supports are generally very inexpensive, but deliver exellent uncompressed video quality.
It is recommended to run eXposer on a computer with a native BeOS/Zeta graphics driver available, if your gaphics board is running in VESA compatibility mode, drawing operations will not be as fast.
eXposer won an award at the BeNews Guru Awards.